Cosmic Gate - Wake Your Mind Sessions 001
Premiera: 14.04.2015
Label: Wake Your Mind Records/Armada Music B.V.
Numer katalogowy: 88875086782
Wydanie: 2CD Jewel Box + wersja cyfrowa


W sierpniu 2013 roku, po wieloletniej współpracy z Black Hole Recordings, słynny duet Cosmic Gate podpisał kontrakt z innym holenderskim gigantem, Armada Music. Wraz z nową umową, Claus Terhoeven i Stefan Bossems rozpoczęli także działalność wydawniczą, pod nazwą Wake Your Mind Records. Od tamtego momentu, wszystkie ich produkcje ukazują się już wyłącznie z logo nowego labela. Jednak rok 2015 przynosi kolejny krok naprzód. Pierwsza odsłona nowej serii kompilacji pt. "Wake Your Mind Sessions", to następca wielokrotnie wyróżnianej "Back 2 Back", która doczekała się czterech części. Dwa krążki i 33 najchętniej wybierane przez Cosmic Gate utwory, to 2 godziny doskonałego klubowego grania. Usłyszymy tutaj m.in. 16 Bit Lolitas, GusGus, Rogera Shaha, Garetha Emery, Above & Beyond, Super8 & Tab czy The Thrillseekers. Do tego ekskluzywne nowości od Clausa i Stefana, a także produkcje z ostatniego studyjnego albumu duetu "Start To Feel". Kompilacja "Wake Your Mind Sessions 001", to następny ważny element w historii Cosmic Gate. Najlepsze z najlepszych z labela, występów i audycji radiowej.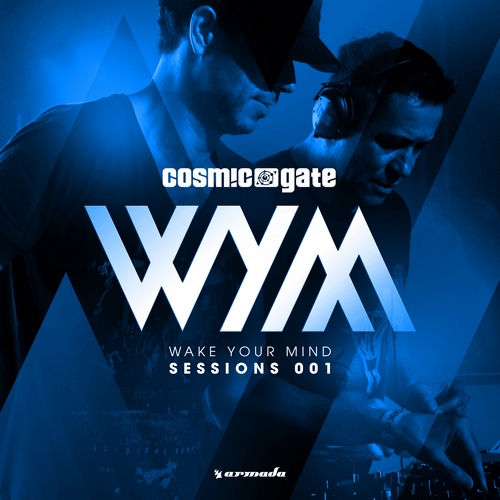 Tracklista:
CD 1:
01. 16 Bit Lolitas - Deep In My Soul
02. Greenhaven DJs - Portal
03. GusGus - Crossfade (Maceo Plex Mix)
04. Azotti feat. Bagga Bownz - Day And Night (IRA' pres. 8Kays Remix)
05. Diversion - 505
06. Roger Shah & Sian Kosheen - Hide U (Jerome Isma-Ae Remix)
07. Rodg - Pendejo
08. Fehrplay - Pyara
09. Yoel Lewis - Paradox
10. Cosmic Gate & Jennifer Cooke - This Will Be Your Happyness (Steve Brian Remix)
11. Cosmic Gate & Kristina Antuna - Alone (Maor Levi Remix)
12. Gareth Emery - Long Way Home (Cosmic Gate Remix)
13. Genix - Durban
14. Cosmic Gate & JES - Yai (Here We Go Again)
15. ilan Bluestone - Big Ben
16. Alex Di Stefano - I've Got The Power

CD 2:
01/02 Arty vs. Cosmic Gate - Flashback Of Conflict (Cosmic Gate Mash Up)
03. Above & Beyond feat. Alex Vargas - Sticky Fingers
04. Steve Brian & Tabasco Bob - Time & Time
05. Cosmic Gate & Orjan Nilsen - Fair Game
06. Cosmic Gate & Eric Lumiere - Falling Back
07. Simon De Jano & Bottai - Delorean
08. Nic Chagall & Jonathan Mendelsohn - This Time
09. Cosmic Gate & Jerome Isma-Ae - Telefunken (Festival Edit)
10. LTN feat. Christina Novelli - Feeling Like (Yeah) (Alexander Popov Remix)
11. Bart Claessen - E.T. Astronaut
12. Cosmic Gate & Emma Hewitt - Going Home (Club Mix)
13. Stoneface & Terminal - Caligula
14. Axis - Lush
15. Cosmic Gate - So Get Up
16. The Thrillseekers - Synaesthesia (Andrew Bennett Remix)
17. Super8 & Tab feat. Julie Thompson - No Frontiers